WATERSPOOK GIRL NAMED WILL, JH
4/8/06-4/26/19
(Riparian Bearly Behavin',MH x Waterspook MacDonald Tartan, JH)
3 weeks after her 13th Birthday, we said goodbye to our sweet Willie Wonka….. Not every day is one blessed with the perfect dog- but to us, Willie was that one. From a very early age, she showed that she was incredible. She just had that demeanor that makes a Labrador the #1 breed. Her temperament was calm and stable, yet she loved hunting and any opportunity to retrieve. Kind with all ; dogs, people, children……. She was welcome in anybody's home because she was a Lady…….  She felt good up until the last few days, at which time she told me that she was ready …. Sadly, I wasn't….. Let her go on a Friday morning…. Feeding her chocolate chip cookies as I said goodbye…..  "
Waterspook All American Gunshot JH SH- "Ollie"
DOB 8/18/07 – XXX
(Waterspook Kickin' Gunshot, SH x Waterspook MacDonald Tartan), JH
OFA GOOD, OFA Elbows Clear, OFA Heart Clear, EIC CLEAR.  CNM Clear-white list
Dam, Grandam and Great Grandam to so many beautiful Waterspook babies, and importantly – a very good friend. Thanks for the memories,
"OllaFolla"…
WATERSPOOK WW STARK RAVIN' MADD, JH
DOB 9/16/10 – 11/14/22
(AFC Super High Flyer x Waterspook Girl Named Will, JH)
Sweet RavieBug, Always so kind. You were a favorite to so many. You loved to help me with training dogs- always ready to pickup bumpers that were left behind. You were Willies daughter-which made you extra special, and you gave me Rita,and her offspring… Miss you daily
Waterspook Windriver Turn The Page,MH
4/09-5/22.
What a ride,"Big T".From our first trip together,as a baby puppy-flying home from Portland, To Montana pheasant hunting, and so much in between. You were one of a kind , thanks for being you, "T".
Waterspook Bankshot Whiz Bang, JH
DOB 10/12/08
WITH HUGE SADNESS, WE ANNOUNCE ANOTHER ONE GONE TOO SOON….. Jesse had a progressive brain disease that took her sweet life way too young. See Jesse's Memorial Page to pay tribute to another great one that was taken way before her time. This sun red dog, never got her chance to shine…..
In Loving Memory of "Jesse-Worm" 10/12/08-3/24/11
Trumarcs Bankshot Bandit, MH x Waterspook MacDonald Tartan, JH
OFA Prelim. Excellent/Prelim Elbows Clear, Eyes clear
Jesse is true to her name-she is a real Whiz Bang! My grandmother referred to someone who was smart, didn't miss much and a quick study- as a whiz bang. That's Jesse! 4 for 4 in Junior, rarely misses a mark and a crack up to live with.
I'll be loving you
Waterspook Kickin' Gunshot, JH, SH
6/13/03- 12/8/08
…With Tremendous Sadness, I said Goodbye to My Boom on December 8th,2008. His loss has left a huge empty spot in my heart and in the lives of all he touched in his short life.  Words are not enough to give tribute to this wonderful fella. I'm blessed to have trained many of his kids and , luckier still, to have three of his beautiful daughters to enjoy every day. They'll do ya proud- big guy. May they all be greenheads buddy, I'll see you at the bridge………
Soon we will be adding Boom's special Memorial page, as all of our other gone but cherished dogs have earned. Check back with a tissue…"
Waterspook Kickin' Good Time,MH
 x
Poconip Annie Get Yer Gun, JH
WATERSPOOKS GIRL NAMED BILL, SH, CGC
Tribute To A Foundation
For Billie…..
You were my first "Train and Sell" dog. Of course I knew the first day, you'd be a hard one to let go. When you broke your knee at 5 months, that was a great excuse not to sell you, for, you can't possibly sell a dog who'd had a leg repaired!
I remember each hunt test we ran together, from the first Junior on the coast- to your last Senior down south. Our good friend Jane judged you that day, I'll never forget that we earned our SH title together that day.
Pheasant hunting was your passion. I remember, once we got hunting, I'd never see you because you were in the cover the whole time.
You were my first "momma dog". You are mother, grandmother, and great-grandmother to many Junior Hunters, Senior Hunters and Master Hunters… From those two litters with you, we're now on our 4th generation of Waterspook dogs- and Wow- do they still have your traits!
… You, my truck mascot for years. All the camping trips, hunt test trips, trips to visit family and friends. You've been a part of me for almost 15 years, why is the road so short….?
You will never be forgotten and forever missed.
Until we meet again, Princess…. Keep the "Evil Doves" out of heaven….
Waterspook Sable's Dark Secret, MH
3/20/02- 1/13/15
Sable Marten…… You were something! Such a team player in training and hunt tests. Running you in Master was always a pleasure.
After you were retired, you could sit for months at a time and not train, I could bring you out- run you as setup dog and you would line your blinds and nail your marks. If I could have another like you, I would in a heartbeat…..
I think of you so often, especially when the frogs are thick down at the creek. You loved hunting frogs!
Fly free- Sable Marten………
Waterspook Kickin' Good time, MH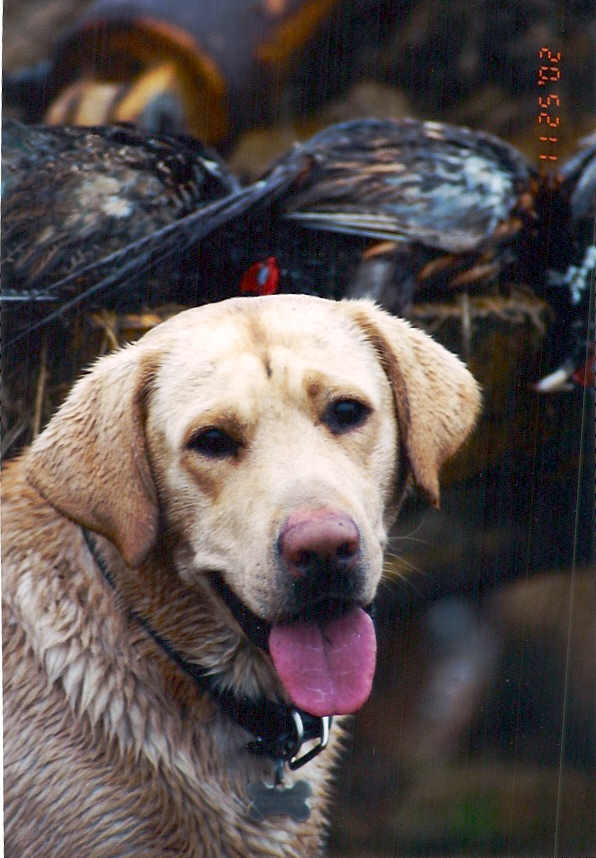 They say you only get one GREAT dog in your lifetime. I hope that's not true- I'd hate to go the rest of my life not knowing another dog as good as you were…
You weren't Perfect; but you came closer than any dog I've ever
known…
I'll never stop loving you , Kickie.
The following is a special tribute lovingly written by a dear friend of
Mine and Kick's. -Sandy Denn
""WHEN A DOG IS MORE THAN HUMAN"
Some of us have been fortunate enough in this life to have met, known or been owned by a dog that fits that description, and alas, since they live only a fraction of the time that we do, we lose them far too soon.
Such a great dog passed away last month.
His name was "Kick", known professionally as "Waterspook Kickin Good Time, MH."
I have had dogs in my life all of my life (and that's 66 years as of now!) and can't begin to count how many dogs that entails. Right now I have 8 of my own, and periodically live with many more when we are "in-house" boarding. As a child I always had at least two and sometimes 6 or 7 depending on how many of my Dad's sheepdogs I was caring for. Out of all those dogs, I can count about 3 that I have shared a life with that were absolutely the "more than human" dogs, as "Kick" was. I was never Kick's owner or trainer, merely his friend. I don't say that lightly, he truly was a friend. He knew my car when I would drive into his yard, and he knew that I enjoyed his very boisterous greeting when he liked you. Kick had a big deep voice and used inflection to convey his current message of the day when he sensed you liked his "talkiness." And Kick always had to have the last word. It wasn't the usual barking that a dog does when his space is being invaded, this was a word for word exchange.
"Well hello Kick, how are you today?"
"Bark bark, pause, Bark, bark."
"That's good, and how are the other dogs?"
"Bark."
"Okay, that's enough now Kick, I want to visit with your friend."
"Bark."
"Quiet now Kick.".
"Bark"
"That's enough, quiet."
"Bark"
I don't care what else I would say to him, he always had the last "Bark". This was just a single "Bark".. He knew exactly what he was trying to say..and also knew exactly that he wanted -the last word."
WATERSPOOK TOMFOOLERY, JH, SH
"Perfect Tommie"…, "Burr"…, "Granny Goose",… "TommaRama"… ,"Tommicus"…,"Tommiegirl"…..and 'Dad's favorite, "Bad Tommie"( all in good fun, everyone knows you were very good!) You had many nicknames in 14 and a half years. And so many memories to count. One beautiful litter, from which came your daughter "Mickie". Many many grand pups, great grandpups and great great grandpups. I'll never forget your first master pass, in Nevada. You took that wonderful over through the huge tule patch and came out on the other side, and picked up the bird. For that day, you earned the nickname, "Perfect Tommie" Ten years after that, here we are…. Through teary eyes I say goodbye for now- Thanks for the memories ,"Burr".    
WR Waterspook's Partner In Crime, SH, CGC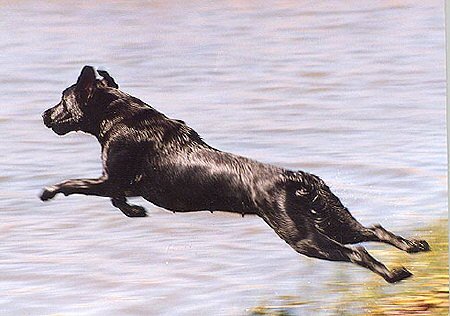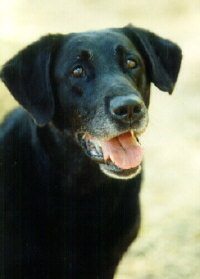 7/29/91 – 8/25/00
Bouncer was a wonderful companion.  She greeted everyone with a tail wag and was truly one of the favorites.  Her nickname was "The Good One".  She will be missed terribly.
THE GOOD ONE
When I Got You
I Just went to See
A Batch of Pups – Not one for Me.
She said you'd be a Good One –
that I should Not Wait.
That was our Beginning, "B"
You weren't just a Good One –
But a Great.
You were my First Senior Hunter
My First Master Leg.
I was so Proud of You,
an MH title for you, I begged!
You Always Tried your Best
but, for little things, we'd get tossed.
So many times we'd go home blue.
We didn't Win but it was their Loss.
Your quirky habits Always
caused me Fits, or Giggles.
Nobody could trim your nails –
Too Full of Wiggles!
The Birds had to Beware –
be quick on their wings
Any time You were There.
Your Bark and Chase Always made me Laugh
But if the Wind came up, or thunder Clapped –
Under a blanket, In the Closet –
I'd find you Wrapped!
So Suddenly Our Giggles Stopped –
and the Many Tears came.
Started on that Dreadful Day
When I found you Lame.
The Vet had bad news.
Said he thought it was CANCER.
Not me, Not my Dog.
Not My Bouncer!
The happiness stopped –
all I had were tears.
Your Last Birthday coming up –
Only Nine Years.
Your last month went so Quick.
You wanted to Go, To Run and Play.
You didn't know you were sick.
Too soon the time came
To Say Goodbye.
That wasn't the hard part.
It's having you Gone
That still makes me cry …
Waterspook MacDonald Tartan, JH
  10/23/02-8/12/15
Losing Mickie was tough. She was so kind, and loving. Mickie loved having puppies- and loved when other girls had puppies. Mickie would patiently wait any chance to sneak in the puppy room when moms were outside, so she could go in and mother on the babies! Not one litter is born here, that I dont think of Mick, and smile. I see her in her daughters Willie, and Ollie ,and more so, in her grandaughters every day…. While she is not physically here ; she is truly here in spirit every single day. We miss you, Micker Picker….. 
TRUMARC'S BANKSHOT BANDIT SH MH " FATS"
3/25/05 – 2/20/18
We lost our dear Fats in February 2018, not quite 13….. He was such a love to everyone. Fun loving guy, who enjoyed life to its fullest. Whether it was flipping his toys in the air, stealing the birds out of the sack on the tailgate, or sleeping soundly on the couch….. He is missed every day. "